Effortless Sublimation With Unisub Blanks & Infusible Ink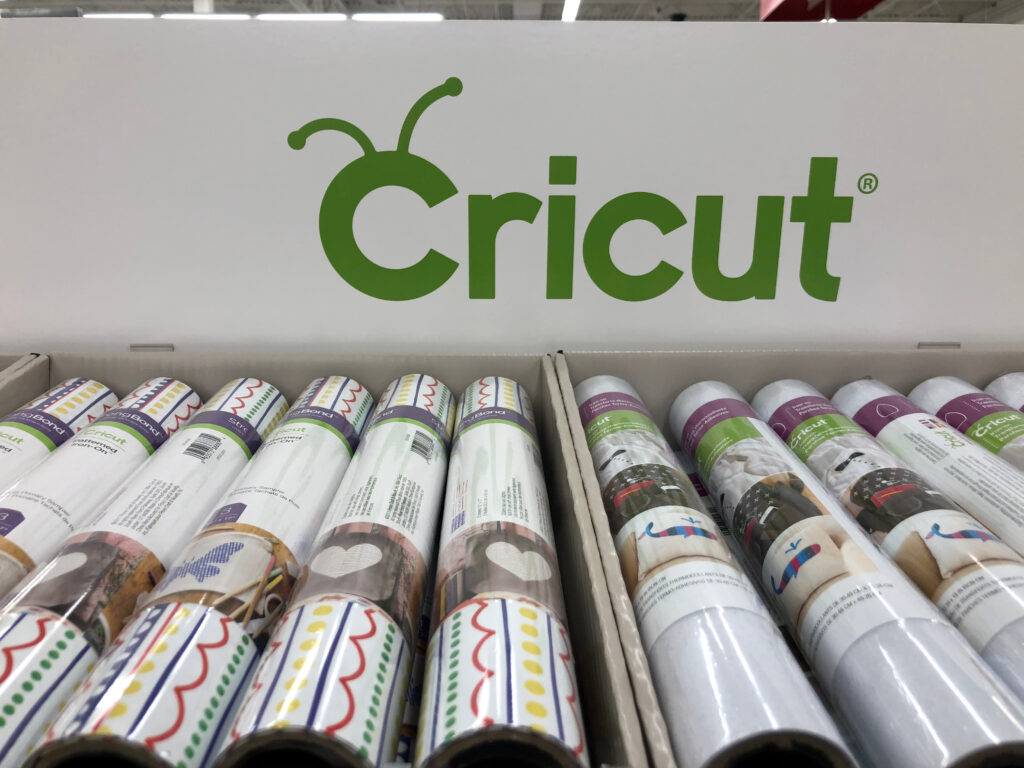 Cricut sublimation inks and paper pair perfectly with Unisub blanks. The Cricut Infusible Ink system gives you thousands of ways to customize blanks. We've put together a quick guide for Infusible Ink and Unisub Products, as well as a few project ideas to inspire you.
Getting Started With Cricut Infusible Ink
Infusible ink is fairly simple to use and much more durable than vinyl transfers. You'll enjoy lasting durability and vibrance without peeling or fading when used with high-quality sublimation blanks, like Unisub products.
You can either buy the printed Infusible Ink Sheets, which come in many different patterns or use Cricut Infusible Ink Markers to draw your sublimation designs directly onto transfer sheets. So let's get started with the infusible ink sheets.
Supplies Needed for Cricut Sublimation
For the best results, you'll need the following supplies to sublimate with Cricut Infusible Ink Sheets:
Cricut Machine
Infusible Ink Sheets
High-Quality Unisub Blanks
Heat Press
Using Cricut Infusible Ink Sheets
Once you've gathered the above supplies and selected the product you want to sublimate, you'll need to select your ink sheet. There are a variety of solid colors and patterns to choose from, so you may have a hard time choosing just one.
Just follow the steps below to use infusible ink on Unisub blanks.
Cricut Design Space
Next, you'll use Cricut Design Space to choose the shape of your design. For example, you may want a snowflake shape for an ornament or a dog bone shape for a dog tag. Just be sure to mirror your design, so it appears on your blank in the correct direction after transfer.
Cutting the Ink Sheet
Then, place the ink sheet into your Cricut to cut out the shape. Now you have your shape for heat transfer.
Pressing Infusible Ink Transfers
Simply follow the manufacturer's instructions and press the design onto your sublimation blank. Be sure to look for recommended temperature and time.
Time & Temperature Guide for Unisub Sublimation Blanks
1/8 THB (ie coasters, ornaments)
385°F
80-90s
1/4 THB (ie photo panels)
385°F
90-100s
FRP (ie bag tags, keychains)
400°F
80-90s
Large 1-sided aluminum (ie photo panels, license plates)
385°F
60-80s
Small 1-sided aluminum (ie jewelry, name badges)
385°F
55-70s
2-sided aluminum (ie ornaments, keychains)
385°F
80-90s
**Your time may vary depending on the paper, inks, darkness of your image, etc.
**Also, refer to Cricut's heat guide when using Infusible Ink sheets and markers.
**You may see the best results by shifting thicker materials to the back side of the press, near the hinge.
Using Infusible Ink Markers
Using infusible ink markers is pretty straightforward. First, draw your design in Cricut Design Space and print it onto the transfer sheet. Afterward, color your design with the sublimation markers. Then, use your Cricut to cut out the design.
Infusible Ink Ideas
We've put together a list of ideas to give you some inspiration. You can find more ideas and free sublimation templates and graphics in the Unisub Resource Portal. Register for free.
Never Lose Your Car or Luggage Again – Unisub License Plates & Bag Tags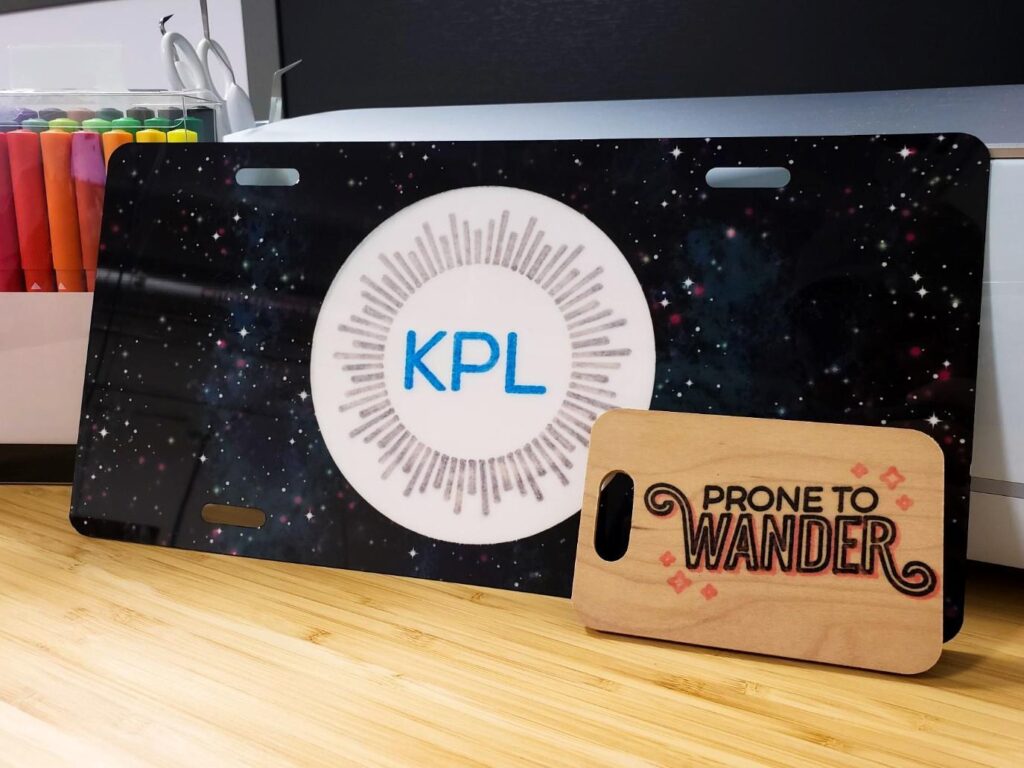 Stand out in a crowd with a customized license plate or bag tag! Cricut's Infusible Ink sheets look bright and colorful on Unisub. Use the Infusible Ink markers and easily add a monogram and your contact info. Some crafters create personalized event ID tags for holiday parties, corporate events, and baby showers. Not only do they look great and withstand everyday wear and tear, but they also make a perfect gift for your customers or loved ones.
Celebrate the Little Ones In Your Life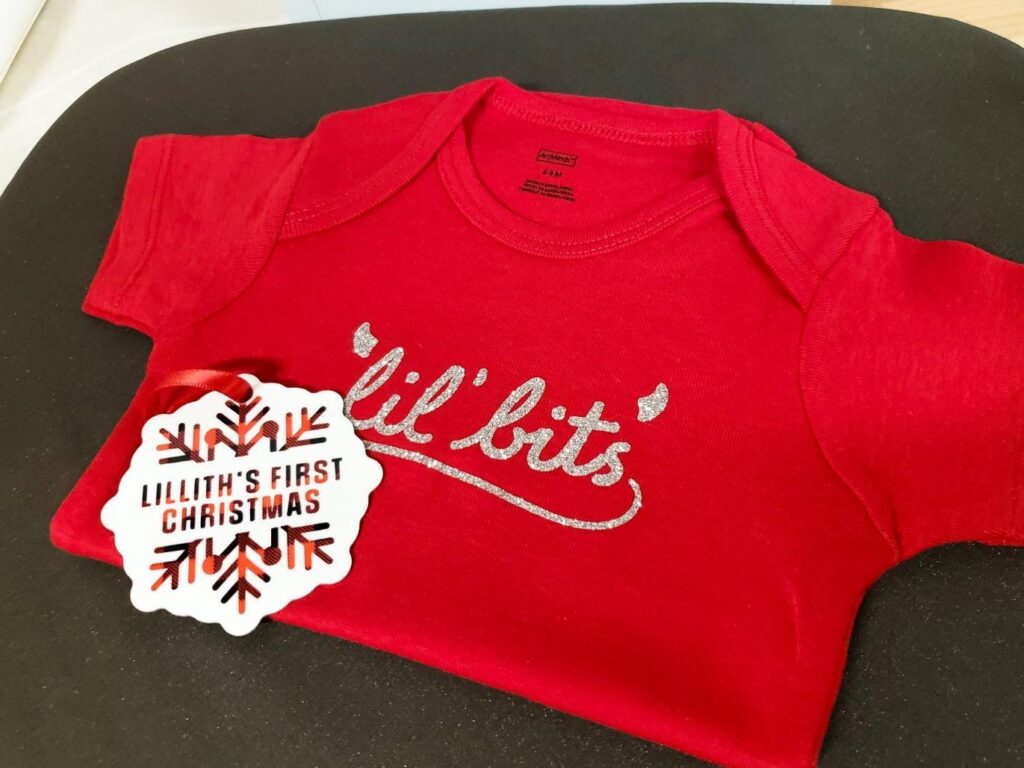 Surprise new parents with this thoughtful pairing—a customized onesie for the new baby and a First Christmas ornament for the family. Unisub offers an unmatched variety of ornaments and keepsakes. Choose our new Snow Globe and Benelux Frame ornaments or a classic customer favorite like the London ornament pictured above. You can offer gorgeous gifts throughout the year and a new gift every year of the baby's life.
Express Yourself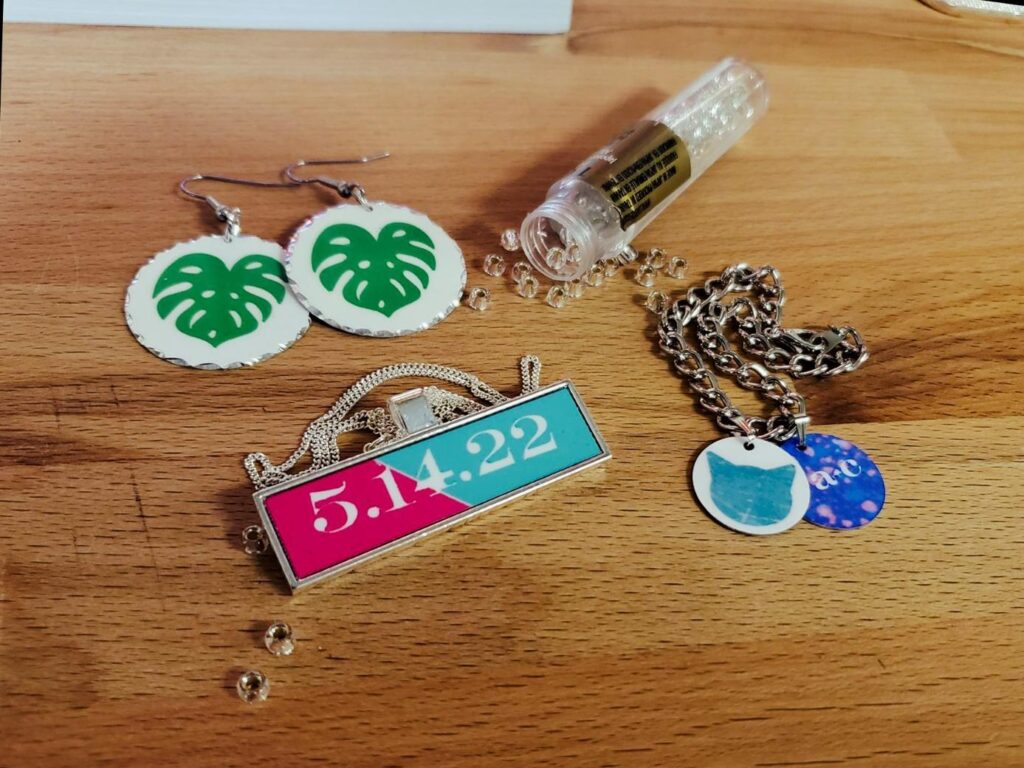 Put your anniversary on one of our bezel necklaces, make friendship bracelets out of our charm bracelets, or create unique designs and make your own jewelry, like these drop earrings! Your options are endless with so many sleek Unisub jewelry blanks to choose from. Between the shapes you cut with your Cricut and the things you can draw with Infusible Ink markers, your creations will stand out on Etsy.
Elevate Your Gifts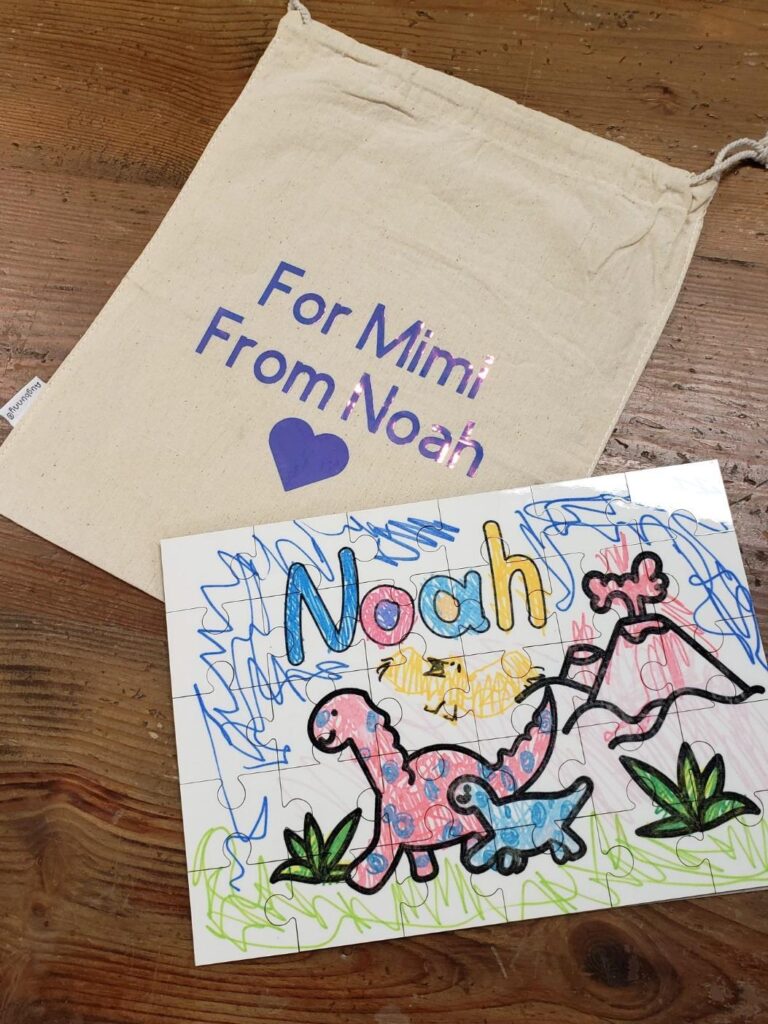 With Infusible Ink markers, you can effortlessly make Grandma her new favorite gift. Paired with Cricut Infusible Ink Markers, you can transform a Unisub puzzle and sublimated gift bag into a priceless gift.
First, use your Cricut to draw a picture. Then, let your little one color the picture with the Infusible Ink markers. Grandparents will treasure this memorable gift, and they can assemble the Unisub puzzle with their grandchildren and create lasting memories. We're sure your customers and loved ones will agree —this is the perfect gift for Mother's Day, Christmas, birthdays, and just because occasions.
Check Out the New Unisub Resource Portal
Don't forget, the Unisub Resource Portal has all kinds of sublimation, free sublimation templates, and royalty-free graphics as well. So be sure to sign up. We love to see your creations, so be sure to share on social and tag us. Happy sublimating!
---
See What's Hot Off the Press