Inkwell Designers Small Business Sucess Story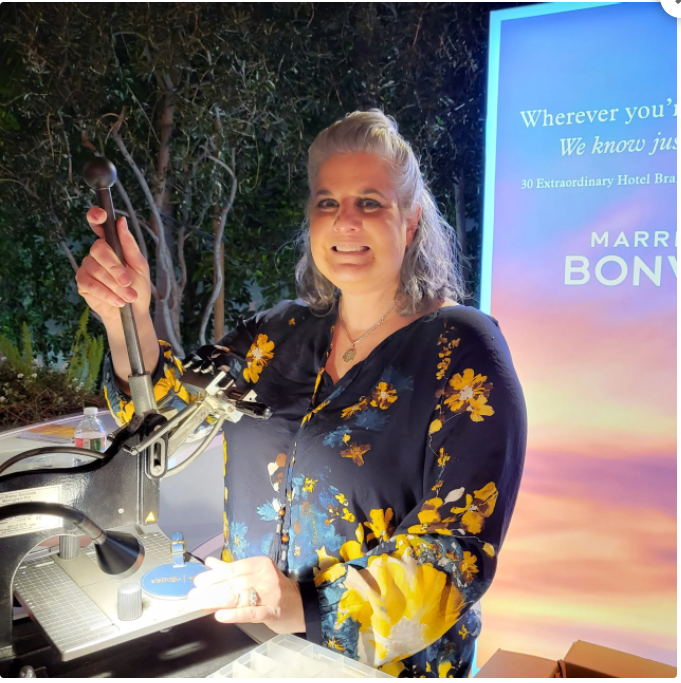 Meet Desiree!
Desiree Colonna has been an entrepreneur for over 25 years, specializing in web design. When a personal tragedy affected her family years ago she returned to her old hobby of calligraphy as a means of therapy. Calligraphy led her to hand engraving, which led her to exploring other mediums such as embossing, engraving, and eventually, sublimation.
Desiree started her sublimation business, Inkwell Designers, in 2016 in a spare bedroom in Desiree's home in Woodstock, Georgia. It wasn't long before the business took off.
"People would ask me to make them something," Desiree said. "Then someone else would ask me to make them something different, and my business just kept expanding and expanding."
After five years of growing their business, Desiree decided to take the plunge and purchase office space in town in 2021. This was a pivotal moment for Inkwell Designers.
"This really changed our mindset and how people viewed doing business with us. We were taken more seriously and the orders came in to prove it," Desiree said.
Inkwell Designers prides themselves on making a wide variety of personalized items for their customers. Desiree will sublimate images on anything from flasks to ornaments and everything in between, showcasing the endless possibilities of sublimation.
Her Advice for a Successful Sublimation Business
"Many companies choose to focus on one or two niche markets and that works great for them. For us, focusing on one thing has never been our style and that has served us well. I can make anything for anyone, and I love that about the mediums that I work with," Desiree said.
In addition to letting Desiree explore her creativity, this approach has also helped Inkwell Designers remain flexible and able to adapt to challenges.
"When COVID-19 hit, the world changed and so did our business. Sublimation carried us through those months, mainly selling sublimated masks. Sublimation has been huge for us and a large focus of our business."
Now that in-person meetings are back on the table, Inkwell Designers has returned to live events and conferences, where they will sublimate items for customers on the spot so they can see the process. Desiree said these events are great opportunities to connect with customers and share the joy of sublimation.
"We have been to multiple events where we will sit outside and press bag tags or similar items for entire conferences. It is amazing and people are thrilled with the results. Sublimation is such a fun way to personalize things. I still feel the magic every time I open up the heat press."
For anyone considering getting into sublimation, Desiree recommends experimenting at the beginning to figure out what you like. Most importantly, be willing to make mistakes and learn from them.
Experiment and Master your Craft
"My advice to someone starting out in sublimation would be to take $100 and buy products," Desiree said. "Experiment with those products, make mistakes, figure out what works. Get comfortable using a heat press and really learn about sublimation. It's amazing how important pressure and timing are. Of course I ran into issues in the beginning and have made mistakes, but those mistakes have gotten me and my business to where I am today. One other thing you need is a really good heat press. It is worth the investment!"
Through it all, Desiree said Unisub's ability to consistently deliver high-quality products has helped Inkwell Designers do the same for their clients and customers.
"Our customers can expect to pay a higher price because they know they are getting a high-quality product. Unisub helps us to back up that quality and our customers love our products in turn!"
---
See What's Hot Off the Press